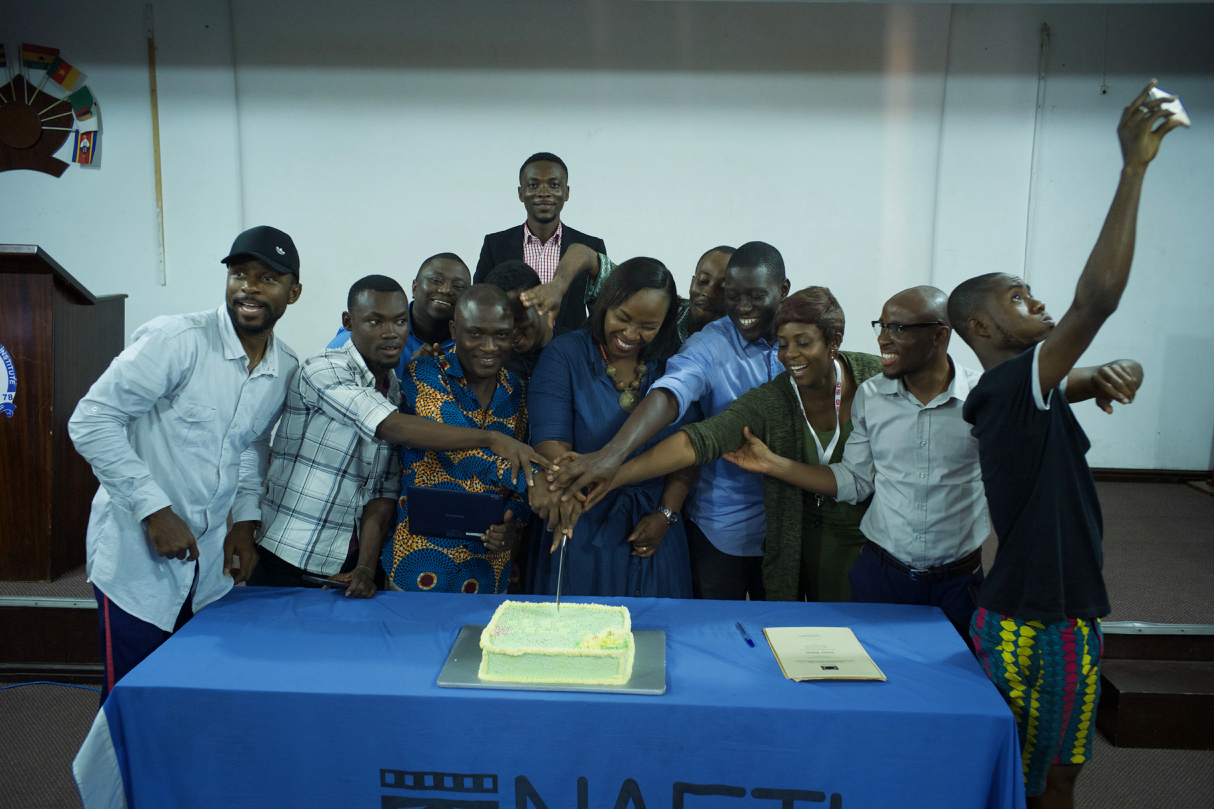 Introduction
A team of practice led researchers from leading film education institutions in each of the countries of Australia (Griffith Film School), Ghana (National Film and Television Institute), Colombia (University of Ibague) and the UK, led by Professor Erik Knudsen from the University of Central Lancashire, ran a series of workshops for emerging independent filmmakers in developing countries on three continents. A unique feature of this network was the lateral collaboration that it encouraged between practice led film and media researchers in developing countries. This team of four researchers collaborated with the host institutions involved to deliver these workshops during 2017, followed by a summarising symposium hosted by University of Central Lancashire in the UK in January 2018.
We were very pleased to be able to offer one of these workshops through the National Film and Television Institute (NAFTI), Accra, Ghana, between the 25th to the 27th July 2017.
The National Film and Television Institute (NAFTI) was established in 1978 by the Government of Ghana as a public Institution of Higher Education in Film and Television Production. NAFTI has a campus spread over three studios all within walking distance in a quiet residential vicinity of Accra. Since its inception in 1978, NAFTI has fostered professional and academic excellence in film and television education.
Aims and Objectives of the Workshop
The aim of the workshops from the participant perspective was to develop participants' creative engagement with story for the narrative moving image. Participants had an opportunity to build their authorial confidence and explore methods and techniques to enhance their ability to articulate their personal vision. During the 3 days of the workshop, each participant had an opportunity to develop a piece of new work for the narrative moving image screen. This could be fact and/or fiction for a feature film or a short film. Projects were developed to a stage where there was a solid foundation for further development outside the context of the workshop. The emphasis was to help develop original creatively independent work. Participants were able to take advantage of interacting with, and taking feedback from, peers as well as an international group of researchers/workshop leaders and eventually to take advantage of engaging with other creative filmmakers across three continents.
Workshop Activities
DAY 1
Morning
Afternoon
Participants in groups of 3, moderated by a researcher, do 1 shot visual interviews with each other of no more than 3 minutes in length. Guidance will be given to interviewers about subject areas to be covered. These interviews are then shown to the whole class.
Round table discussion of themes emerging from introductions and interviews focusing on common opportunities, aspirations, challenges and understanding of context and forms.
DAY 2
Morning
Creativity and Story: interactive lecture/seminar led by Professor Erik Knudsen.
Creativity and story: an in class practical exercise in which each participant develops a new idea with interactive participation of researchers and other participants.
Afternoon
DAY 3
Morning
Each participant presents their developed idea to class for discussion.
Round table discussion discussing impact of new developed ideas.
Afternoon
Introduction to working with web site and blog and discussion of future development of ideas and collaboration.
Summarising workshop experience and learning.
Note: Throughout the workshop, participants will be encouraged to use the secure web site facility for the project to share and communicate their creative experience and to engage in ongoing debates. These functions will be available and encouraged well beyond the actual workshops themselves, thereby facilitating an ongoing dialogue with both local peers and new international peers taking part in the project's other workshops in different continents.
Check out the more detailed Workshop Schedule.
For more details about the workshop, please contact Sarah Kuntoh.